Welcome to Bridge Club of North County
2320 S Escondido Blvd, Escondido, CA 92025
760-807-9396
The Bridge Club of North County is a California nonprofit mutual benefit corporation and a member of the American Contract Bridge League (ACBL).
For more information click the About BCNC button. 
About BCNC
Click on the "sign up now" button below to receive our newsletter and breaking news
Sign Up Now
Special Single Topic Seminars
Hazel Turner is currently holding workshops on Thursdays, starting at 4:15pm. You don't have to be in the Easybridge! class, everyone is welcome. No pre-registration required, just drop-in. Each workshop is $5/person and lasts approximately 2 hours.
Every week there will be a focus on a particular topic, and includes Takeout Doubles, Preempts, 2C Openers and Negative Doubles, etc. See the club noticeboard for the calendar, view the Learning Page, or send an email to hazelturnerbridge@gmail.com
Why not play on Thursday and stay for the seminar? 
PARKING INFORMATION
There be asphalt!!!
On Thursday, January 18 repaving occurred. This is not a false bulletin or fake news. See the photo below for yourself. Temporary striping is done. Final striping will occur when the second half of the parking lot has been completed.  
Please note that repaving of the Book Store section of the parking lot will soon follow. This should not affect BCNC parking.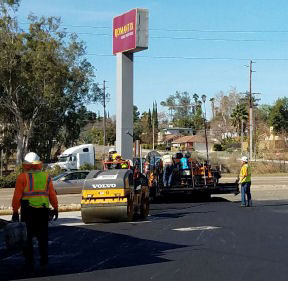 Important Unit 549 Game Information
Please note the following game location change. ACBL Unit 549 San Diego North County Inland unit games will be played at the Bridge Club of North County beginning in February. 
.
BCNC Weekly Game Schedule
Open Pairs Monday – Saturday* at 12:30 PM
Tuesday 9:00 AM
499 NLM Pairs Monday and Friday at 9:00 AM
 0-99 Pairs Wednesday 9:00 AM
Supervised Play Monday 9:00 AM and Thursday 9:30 AM
Closed Sundays
Click here to see our Calendar
Monthly Game Calendar
NOTE: BCNC is closed on these dates:
Tuesday, March 27, Tuesday, March 29, and Saturday, March 31
(all for the San Diego Regional Tournament)
 Click here for driving & important parking information
Directions & Parking
Reservations are accepted  but not required except for specially designated special events. To make a reservation click on 
Game Reservation.
Special Events

Mixed Up Pairs
Thursday February 8
Open Pairs
Players are randomly paired
Free Game 12:30PM
Sandwiches 11:45 AM
Sign Up Required

 

549 Unit Game
(Now at BCNC)
Open & NLM Pairs
Saturday February 24
Lunch 11:45 AM
Game Time 12:30 PM

 

Valentine's Day
Wednesday, February 14
Club Championship
Special Desserts

 

 

 
               GOLD at the Club              
An ACBL-wide Regional Event At the Club House (REACH) will be held February 3 and February 5-9 during the afternoon' sessions of club play. This event is open to all ACBL members. Play will be conducted using the electronic hand files provided for 'The Common Game'. Players playing any two or more sessions of this event will be eligible for overall rankings. Players will be ranked as individuals. Sessions scores will be based on percentages.
This event is NOT stratified. Participating clubs will be grouped for overall rankings based on the 'strength of field' algorithm as determined by The Common Game and applied to the individual club results submitted. There will be 4 groups (pools) for scoring purposes.
A W A R D  E X A M P L E
Assume 4,000 participants, 1,000 per pool.
Then the awards would be approximately as follows:
1st Pool - 30.00 Gold for 1st - 0.69 Gold for 250th place
2nd Pool - 24.00 Gold for 1st - 0.55 Gold for 250th place
3rd Pool - 19.20 for 1st (12.67 Gold) - 0.44 for 250th place (0.30 Gold)
4th Pool - 15.36 for 1st (7.68 Gold) - 0.36 for 250th place (0.18 Gold)
Note: Actual awards depends on participation entries.
Entry fee is $30 per player. Registration shall be open from January 10 until 2400 PST February 2, 2018. Players must pay both the entry fee and their normal club entry fees. Those interested in participation must register on-line with the ACBL. Use the following link.
Participant Registration
https://sites.google.com/site/racswingforgold/club-participant-registration
For more details click the link below.
Event Details
http://www.acbl.org/reach-2/  
Contact Us
* Note: Partnership requests should be made 24 hours in advance.
Learn to Play
Supervised Play Monday at 9:00 AM and Thursday at 9:30 AM
eMail our SP Coordinator Vic Pitcock at kcoctip.rotciv@att.net. 
Easybridge 2 In progress.
EZ Bridge 1 classes begin Saturday morning January 6, 2018, 9:00 AM at the Bridge Club of North County; 2320 S. Escondido Blvd., Escondido, CA 92025.
Please email Hazel Turner for enrollment information. hazelturnerbridge@gmail.com)  
For details click here
Play of the Hand will be held at BCNC beginning Monday February 5th at 4:15 PM. The course runs for 5 weeks. Lessons are repeated on Tuesdays at 4:15 PM. To register please email Bill Butler (billbutlerbridge@gmail.com). Go to the Learning page for more information.
Defense Techniques will be held at BCNC beginning Monday March 19th  at 4:15 PM. The course runs for 5 weeks. Lessons are repeated on Tuesdays at 4:15 PM.  To register please email Bill Butler (billbutlerbridge@gmail.com). Go to the Learning page for more information.
Game Fees and Special Pricing
Afternoon Games
Open Games  -  $11.00 
A sheet of 10 game tickets may be purchased for $103.00  A $3.00 discount is offered if the purchase Is made by cash or check. Cash, checks, and credit cards (excluding American Express) may be used to purchase ticket sheets. These tickets may be used only for this game.
Morning Games *
Open Games - $8.00
499'er Games  -  $8.00  
* Pricing is lower because Morning games play fewer hands due to time constraints.
Supervised Play  -  $5.00 
Special Notes:
Some special events may have a fee other than those shown above.
Any player who pays and plays in a morning game or supervised play may play in the afternoon open game that same day for only $6.00.
Afternoon game tickets may not be used for morning events.
Check cashing policy
Checks may be written for the game fee amount only. Third party checks are not accepted.
BCNC Pet Policy
Service dogs only
Emergency Contact Information
Players may optionally provide BCNC with an emergency contact name and telephone number. Please use the following link below to email us this information. 
Help the Homeless
At the suggestion of one of our members, the Board has adopted a new charitable initiative.  Please save all those small bars of soap, and small bottles of shampoo, hair conditioner and skin conditioner when traveling and deposit in the "Donation Box" at the Club.  All items donated will go to Father Joe's Village and given to the homeless.  Unopened items only. Please help and make someone's day just a little bit better.